Why Should I Write a Postnuptial Agreement?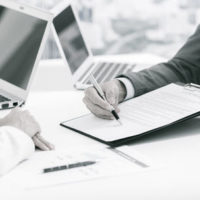 Do not be afraid of the idea of signing a postnuptial agreement. A postnuptial agreement, like a prenuptial agreement, is a document that outlines how a couple's assets are to be divided in the event of their divorce or one party's death. It can also clarify how assets are to be used, acquired, and designated during the marriage. Although it can be easy to think that signing such an agreement is admitting that you do not have faith in your marriage, this cannot be further from the truth. Instead, think of this type of document like you think of your automobile insurance: you do not want to get into a situation where you have to use it, but if you do find yourself in one, it will protect you. Below are a few reasons why couples sign postnuptial agreements.
To Ensure that your Children from a Previous Relationship Receive Assets After your Death
Prenuptial and postnuptial agreements are popular with individuals who have children from previous relationships because they can be used to ensure that the individual's children receive certain assets upon his or her death.
To Make the Divorce Process Easier or to Divide your Assets Without Divorce
If you and your spouse have determined that you no longer want to be married, you can create a postnuptial agreement to work out how your assets will be divided before you file for divorce. In Florida, a couple cannot sign a legal separation agreement to divide their assets without divorcing. Couples who are not ready to divorce can instead sign a postnuptial agreement to complete this task. Others do this to expedite the property division process so they can divorce quickly, easily, and inexpensively.
Postnuptial agreements are also utilized by couples who never plan to divorce, but want to detach their lives from each other without legally divorcing. This may be the case with couples who have moral or religious objections to divorce or couples who remain married to keep their spouse's health insurance benefits.
To Determine the Ownership of Certain Assets and Debts
You might not want to be jointly liable for certain debts. For example, if one spouse wants to start a business with a business partner, a couple might designate that spouse's share in the business and any associated liabilities as  a non-marital asset in a postnuptial agreement. This can protect one partner from being required to repay debts his or her spouse accrued or face tax liabilities for assets he or she did not acquire.
Work with an Experienced Orlando Divorce Attorney
It is almost never a bad idea to create a prenuptial or postnuptial agreement. Although some couples only create such an agreement after they have decided to divorce, others do so early in their marriages to clarify how their assets are to be divided in the event of a divorce or death. To learn more about creating a postnuptial agreement, contact our team of experienced Orlando divorce attorneys at Goodblatt · Leo today to set up your initial consultation in our office.
Resource:
americanbar.org/content/newsletter/publications/gp_solo_magazine_home/gp_solo_magazine_index/nachshin.html