What Not to Do When you File for Bankruptcy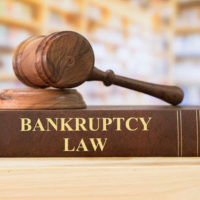 When you file for bankruptcy, there are certain things you need to do like complete a credit counseling session. You also need to make sure you are eligible for the bankruptcy chapter you file. There are also certain things you should do when you are working through the bankruptcy process, like create a household budget and educate yourself about the bankruptcy process.
There are also things you should not do when you are completing a bankruptcy case. Certain mistakes can make your bankruptcy more difficult, while others can actually result in a dismissal of your case or criminal charges. Talk to your lawyer about mistakes to avoid during the bankruptcy process and how you can make the process as straightforward for yourself as possible.
Do Not Go on a Spending Spree
Although you cannot abstain from spending money altogether, you should speak to a lawyer about what items you should avoid.  For example spending money on a lavish vacation just prior to filing your bankruptcy case made be detrimental to your case and may result in a denial of your discharge.
Do Not Hide Any Assets from your Bankruptcy Trustee
Hiding assets from your bankruptcy trustee could be deemed to be an act of attempted fraud. You need to disclose your assets to your trustee in order for him or her to determine your net worth, your disposable income, and if you filed for Chapter 7 bankruptcy, which assets you will be allowed to keep.
Do Not Fail to Mention Any of your Creditors
Failing to include one or more of your creditors on your bankruptcy petition may result in that debt not being  discharged. This can mean having to repay the debt in full or having assets repossessed to satisfy the undisclosed creditor's debt, depending on the circumstances of your case.
Do Not Ignore your Lawyer's Advice
When you file for bankruptcy, you are assigned a bankruptcy trustee who oversees your case.  Although it is not mandatory that you are represented by a lawyer, it is in your best interest to work with a lawyer who can act as your advocate during interactions with your trustee, your creditors, and the court. Follow your trustee's instructions and your lawyer's advice. If you receive instructions from the Trustee that conflict with instructions given to you by your lawyer, you should always ask for clarification.   Express your concerns and make sure you understand what is expected of you during your bankruptcy process.
Work with an Experienced Orlando Bankruptcy Lawyer
Make the bankruptcy process as easy as possible for yourself by working with an experienced bankruptcy lawyer who can help you avoid pitfalls and make productive choices. To learn more, contact our team of Orlando bankruptcy lawyers at Goodblatt-Leo to set up your initial consultation in our office.
Resources:
law.cornell.edu/wex/bankruptcy_fraud
uscourts.gov/services-forms/bankruptcy/bankruptcy-basics/chapter-7-bankruptcy-basics