Specific Family Law Issues that Same Sex Parents Face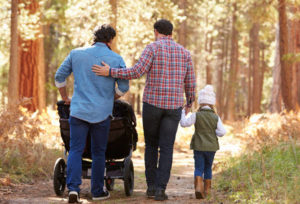 As of 2015, same sex couples can legally marry in Florida.  Although this was a critical civil rights milestone, it does not mean that all issues same sex parents face were resolved.  In 2016, the Florida Department of Health began to allow both parents in same sex couples to list their names on their newborns' birth certificates, and even then, many couples had to list themselves as "mother" and "father."  Birth certificates with inclusive language were not available until July.
Although your gender should not impact how your rights and interests are treated in court, you can potentially face certain legal issues that affect heterosexual parents far less frequently.  If you are a parent in a same sex marriage or unmarried relationship, discuss any issues you might face due to your sexual orientation with your family lawyer before you proceed with any court process.
Bias in the Courtroom
By law, your gender is irrelevant in the courtroom.  However, you may run into a conservative judge who makes rulings in a biased manner.  If you feel you were treated unfairly because you are not a heterosexual parent, discuss your concern with your lawyer to determine whether you have grounds to appeal the ruling.  You have the right to fair, unbiased treatment by the court in all circumstances.
Issues Related to Legal Parentage
If you or your partner are not a legal parent to your child, as could be the case if your child was born before you were married or before both parents could sign their child's birth certificate and you did not complete a second parent or stepparent adoption, the spouse who is not the child's legal parent may find him- or herself without any right to time with the child after your divorce.
If you are in a situation where you are working with a surrogate to have a child or if one of you is pregnant and you are now filing for divorce, make it a priority to determine your child's legal parentage with your lawyer before you proceed.  In Florida, a man in a heterosexual marriage is automatically assumed to be the father of any child born during his marriage, regardless of the child's actual biological parentage.  The court has yet to rule on this for same sex parents, putting them into a precarious position regarding the parentage of unborn children.
Work with an Orlando Family Lawyer
Working through legal issues is often stressful.  When they involve your children and family, they can become emotionally taxing on top of consuming your time, money, and mental energy.  Whether you are going through a divorce or working through another legal issue, like adopting a child or modifying an existing court order, make it as easy as possible for yourself by working with a competent lawyer.  The family lawyers at Goodblatt · Leo in Orlando have extensive experience working with same sex and heterosexual parents to determine fair rulings that are in the best interest of all members of their families. Contact our firm today to set up your initial consultation with us.
Resources:
tampabay.com/news/health/after-litigation-and-a-long-wait-florida-will-list-both-same-sex-couples/2277740
law.cornell.edu/uscode/text/28/144