Remember to Take Care of yourself During and After your Divorce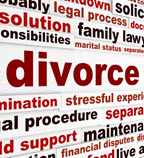 Most divorces are difficult. Even amicable divorces, such as collaborative divorces, can be stressful before during and  after their divorce is finalized. When you are working through a divorce and relearning how to live as a single person  it can be easy to put your own well- being on the back burner. Use the following tips to take care of yourself through the divorce process and in the months that follow.
Keep Hitting the Gym and Eating Right
There is a correlation between your physical health and your mental health. Staying in shape can keep your mind in a healthier, more balanced place that makes it easier for you to tackle the challenges that come with a divorce. Your diet is also linked to your health – although it can be easy to live on frozen food and takeout during your divorce, resist the urge to do so. Cook healthy meals for yourself and your children to keep yourself physically healthy.
Make a Budget and Stick to It
It is no secret that getting a divorce is expensive. Beyond the cost of a lawyer and your court fees, you will likely face the cost of moving and the expenses that come with living on one income.
Create a conservative monthly budget for yourself that allows you to save part of each paycheck for emergencies. It can be easy to make a budget with an app like Mint.
Make Time for the Things that Make you Happy
You need to give yourself a break from the divorce sometimes. If you have a demanding schedule, make "appointments" for yourself just like you would schedule meetings or other demands. During these appointments, do what makes you happy. Work on a hobby, go for a jog, or spend time with a close friend. Little breaks in your schedule can give you something to look forward to and immensely aid your mental health.
Know When to Seek Professional Help
Do not feel bad if you cannot "do it all" on your own. The divorce process is difficult, even for individuals who have been divorced before. If you feel like you are suffering mentally, consider working with a psychological counselor. If you feel your physical health has suffered, discuss your symptoms with your doctor. For financial issues, speak with an accountant or financial advisor.
Work with an Experienced Orlando Divorce Attorney
A divorce can be equally physically, emotionally, and financially difficult. If you can, prepare for the divorce process before you file your initial divorce paperwork. This is not always an option and if it is not an option for you, you can take the steps listed above at a later point in the divorce process to help yourself stay healthy as you end your marriage. For experienced legal advice and representation, contact our team of Orlando divorce lawyers at Goodblatt · Leo today to set up your initial consultation in our office.