How will my Divorce Affect my Adult Children?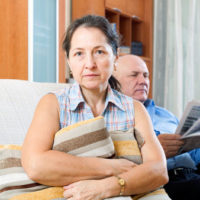 Some couples, despite realizing that their marriages are no longer healthy, productive partnerships, put off their divorces until their children are grown, rationalizing that it would be better for their children to grow up with both of their parents in the house, rather than having to split their time between two households. Others only realize that they are no longer happy in their marriages after their children are grown and gone.
Divorce affects all members of a couple's family, including their adult children. Divorcing as a parent of adults is different from divorcing as the parent of minors and requires special considerations from all parties.
Gray Divorce is On the Rise in the United States
It is more common now for couples over the age of 50 to divorce than it has ever been in the United States. This is attributed to a few factors, such as longer lifespans, women's involvement in the workforce, and the greater social acceptability of divorce. This means that now, more than ever, parents of adult children are navigating the divorce process and life afterward.
Your Child's Role in Maintaining Relationships with Both Parents
Divorced parents of minor children work to maintain relationships with the children through timesharing agreements. Adult children hold the reigns when it comes to maintaining relationships with their parents. Be available to your child, but accept his or her choices regarding your relationship. Do not try to force a relationship on him or her, whether it is a relationship with you or one with your new partner.
Although your Children are Grown, you are Still Their Parent
Make yourself emotionally available to your child, no matter what. Even adults with spouses and children of their own can need their parents' emotional support. Be willing to discuss your divorce with your grown son or daughter – although you might choose to keep certain details private, talking about the reasons behind your divorce and how the process worked for you can be an important way for you to heal while he or she develops a stronger understanding of your experience.
You will also likely see your former partner at family events, such as weddings, graduations, and birthdays as the years progress and your child and grandchildren reach various milestones. Do not use these events or your relationship with your child as a way to fight with your former partner. If you are not comfortable with his or her presence, find a way to work that out, such as leaving the event early or celebrating it on another day – do not make your child choose between you and your former partner. This will only create conflict and resentment.
Work with an Experienced Orlando Family Law Firm
No matter how old your children are, they will feel the effects of your divorce. How they feel these effects depends on a few factors, such as their ages, the level of conflict in your divorce, and the outcome of your settlement. To discuss how your divorce will affect your children further, contact our team of experienced divorce lawyers at Goodblatt · Leo to set up your initial consultation in our office.
Resources:
leg.state.fl.us/statutes/index.cfm?App_mode=Display_Statute&URL=0000-0099/0061/Sections/0061.13.html
usatoday.com/story/money/business/2016/04/10/gray-divorce-a-trend-on-the-rise/85892402/