How will Bankruptcy Affect my Credit Report?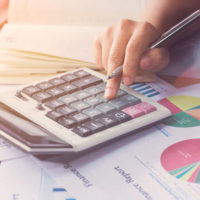 Here is the short answer: your bankruptcy case will remain on your credit report for several years and it will reduce your credit score initially, but it will improve. There is no way around these facts; they are simply part of the bankruptcy process and something you agree to when you file for bankruptcy.
The chapter you file plays a role in how the bankruptcy affects your credit report, as well as the actions you take after you file for bankruptcy. Even if you do not file for bankruptcy, debts for which you are responsible, can impact your credit score. These include accounts named in bankruptcy cases that name you as a beneficiary, tax liens, judgments, and third party debts in your name. 
Ways Chapter 7 Bankruptcy Affects your Credit Report
A Chapter 7 bankruptcy case stays on your credit report for 10 years. Typically, Chapter 7 cases are over within a few months, giving you the opportunity to get right back on rebuilding your credit after you have completed the process.
Discharged debts come off your credit report sooner than the actual bankruptcy case. Expect your discharged debts to be off your credit report within a few years of their discharge.
Ways Chapter 13 Bankruptcy Affects your Credit Report
A Chapter 13 bankruptcy case stays on your credit report for seven years after it is filed. The average Chapter 13 case takes three to five years to complete.  Therefore, there are only a few more years after you complete your Chapter 13 bankruptcy, that it remains on your credit report.
Repairing your Credit After Bankruptcy
Expect your credit score to drop anywhere from 130 to about 200 points when you initially file for bankruptcy. This is a significant hit, but it begins to improve shortly after you file.  It is possible to rebuild your credit, even within a few years.  For example, when if you make your Chapter 13 payments on time during your bankruptcy, the Chapter 13 Trustee often reports those timely payments to the credit bureaus, helping repair your credit while you are still in bankruptcy.
Your bankruptcy lawyer can give you advice about how to efficiently rebuild your credit after filing for bankruptcy.  For example, after completing your bankruptcy, you may be able to open a secured card if you do not qualify for an unsecured credit card. Paying your cards off on time, in full every month is the easiest, most effective step you can take toward repairing your credit score. It is also in your best interest to routinely check your credit score so you can fix issues as soon as they arise.
Work with an Experienced Orlando Bankruptcy Lawyer
Filing for bankruptcy will change your life. Ideally, it will change it for the better. To ensure that your rights are protected through the bankruptcy process and that you fully understand what it entails, work with an experienced Orlando bankruptcy lawyer. Contact our team at Goodblatt • Leo today to set up your initial legal consultation with us.