How Can I Convince my Spouse that Collaborative Divorce is the Way to Go?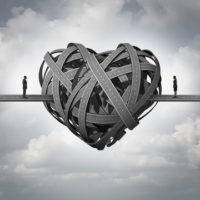 Your goal should not be to "convince" your spouse to agree to  a collaborative divorce. Do not think of it as a winning vs. losing proposition where you need to persuade your spouse to your way of thinking – this is not the basis of a healthy collaborative divorce. Rather, you should approach this from a standpoint of providing your spouse with information which would lead him or her to recognize that a collaborative divorce can be beneficial for you both.
Present your Spouse with the Facts About Collaborative Divorce
Your spouse might initially be opposed to a collaborative divorce because he or she does not understand the process or its benefits. The best way to help your spouse make an informed decision is to present him/her  with objective facts to consider. Discuss facts about the collaborative divorce process, such as:
With a collaborative divorce, the couple works together to reach agreements for their divorce settlement, rather than putting these decisions in the court's hands;
Choosing a collaborative divorce can save you money;
Couples who choose collaborative divorce generally report higher levels of satisfaction with their divorces and their relationships with each other in the years that follow their divorces; and
In most cases, a collaborative divorce is much less stressful for the couple than divorcing through litigation.
Encourage your Spouse to Find the Facts About Collaborative on His or Her Own
In a collaborative divorce, each spouse retains his or her own lawyer. Encourage your spouse to discuss the advantages of collaborative divorce with his or her lawyer. Your spouse's lawyer might have a very different experience with the collaborative process than your lawyer.  He or she might have additional insights into the process, which may encourage your spouse in making the decision to commit to a collaborative divorce process.
If your Spouse Does Not Agree, Collaborative Divorce Might Not be Right for you
Remember, it is important that both parties agree to divorce collaboratively.  Full commitment to the process insures you have the greatest chances of succeeding in the process.  If you cannot reach an agreement to divorce through a collaborative process, there are other options for you besides litigation.
If your spouse does not agree to a collaborative divorce after examining the facts about the process, consider divorcing through mediation. Mediation also has benefits, as does a collaborative divorce,  such as less court involvement and a lower cost than litigation.  In mediation, a neutral third party helps divorcing couples negotiate their settlement in either one or several sessions.
Work with an Experienced Orlando Divorce Lawyer
A collaborative divorce can be a productive way to end your marriage, but you and your spouse both need to be completely committed to the process for it to work. To learn more about the collaborative divorce process, contact our team of Orlando divorce lawyers at Goodblatt-Leo today to set up your initial consultation in our office.