5 BENEFITS OF MEDIATION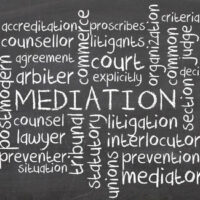 Florida courts require parties who are divorcing to attend mediation before going to trial.  You, the other party and your respective attorneys meet with a certified mediator to try to settle the issues pending in your divorce.  Our firm may represent you in mediation as your attorney, or you may have Amy Goodblatt mediate your case.  Is mediation really beneficial or is it just another cost and delay to keep me from having my day in court?
There are many benefits of mediation, but we're going to look at 5 of them.
Mediation gets everyone in the same place. Mediation can be done with everyone in the same room or you and your attorney can be in a room separate from the other party and his/her attorney with the mediator going between the rooms.  "Face-to-face" negotiation takes less time than negotiating by phone, email, or letter.
Mediation is a place for your voice to be heard. If you have concerns about a financial situation or a situation concerning the children, mediation is the place to discuss those concerns.  You are able to be open with the mediator about those concerns, and the mediator will then address them with the other party and will help to reach a workable solution to the problem.  Because you are able to be in separate rooms, you may discuss your concerns more freely than if the other party is looking at you from the other side of the table.
Mediation is cost effective. If you are able to resolve some or all of the pending issues of your divorce at mediation, even if more than one session is required, it is more cost effective than going to trial.  Legal fees mount quickly when preparing for trial – depositions, meeting with potential witnesses, preparation of subpoenas and trial exhibits, preparation of trial questions, attending trial, etc.  If you are only able to resolve some of the issues at mediation, you have limited the issues for trial and lessened your legal fees.  All agreements reached at mediation are written, signed by both parties, and will be submitted to the Court for approval.
Mediation is private. Mediation is a private, confidential process.  Friends and family do not attend mediation with you as they might for trial.  What is said during mediation, stays at mediation; settlement negotiations are not revealed to the Court if mediation fails and a trial is necessary.
Everyone participates in mediation. Both parties participate in the settlement negotiations.  If the other party is the type of person that is used to controlling everything, the mediator will direct the negotiations, not the other party, and will work to bring everyone to "yes".  If you don't like a proposal, you are able to say so and offer a counter-proposal.
Does mediation always work?  No.  Like any process, it sometimes fails.  If that's the
case, you and your attorney have had a preview of the other party's thinking and can prepare accordingly for trial.
Mediation is successful more than it fails.  It's an effective (time and cost) process to resolve the issues of your divorce so you can make the decisions that will affect your family's future, not a judge.
Whether you want us to mediate for you or to represent you at mediation, contact the experienced mediator and attorneys at Goodblatt ● Leo.  Call us today at (407) 228-7007 or fill out our online form so we can begin reviewing your case.